Chances are you've heard of bone broth, protein powder and collagen powder but never truly known the benefits of it. Today we speak to the founders of Nutra Organics, Mark and Darlene Powell, and find out more from the pioneers of the Australian organic and superfood movement. With a huge selection of natural food products (most of which is actually pregnancy, breastfeeding and child-friendly), and gorgeous packaging, this is a brand with a loyal cult-following and guaranteed to become a staple in your pantry.
Give us a brief background of Nutra Organics and what made you decide to launch the brand?
Nutra Organics began as our family passion project back in 1998, when the term 'organic' was unheard of and health food stores just a hippy thing here in Australia. We have always had a passion for health and organic whole foods, but back when we started there was no trustworthy, quality, organic supplements available for when we needed extra nutritional support.
We created our Super Greens + Reds powder, a natural organic wholefood multivitamin blend, for ourselves, our children and our grandchildren, because there was truly nothing else available. Our local community became interested and we organically grew through word of mouth and interest from shops, because the product truly works wonders for energy and immune support.
From there, we created more and more products that simply didn't exist, such as our Thriving Protein, the very first protein blend suitable for children and pregnant/breastfeeding women with extra gut support and whole food vitamins and minerals. Fast forward 21 years, and we now have a range of over 160 products, ranging from collagen, vegan proteins, broths, superfood lattes, wholefood bars, kids products, pantry staples and more.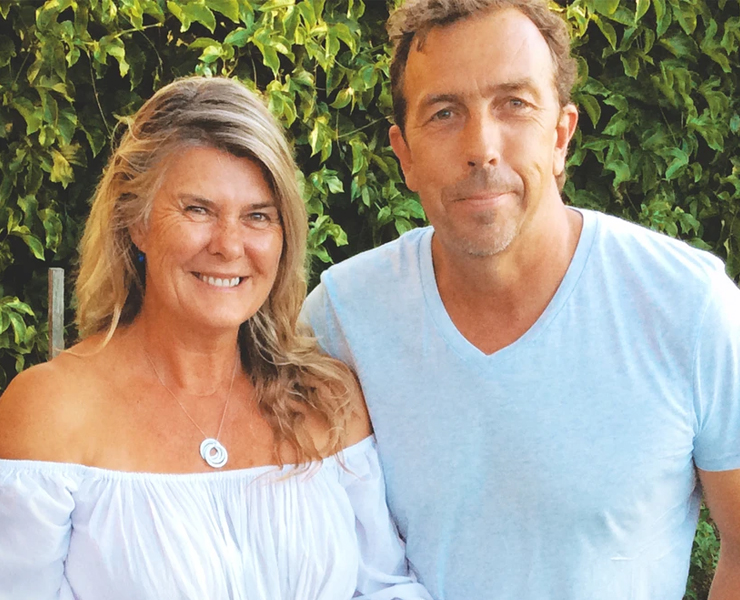 Founders of Nutra Organics, Mark and Darlene Powell 
What inspires you to create a new product?
Feeling a significant different in our own health with our products, as well as the health of our children and grandchildren, that inspired us to keep coming up with more innovative products with powerful wholefood nutrition. Seeing the positive impact spread to our local community, then to our entire nation, and now internationally, and hearing the most beautiful stories of how our products have genuinely changed lives in so many ways, is what really keeps us going.
What are some challenges with running a health food company?
Health food is now an extremely competitive industry, and there's a lot of noise out there from other brands. It can be a challenge to remain competitive with so many big players putting out similar products, but with much cheaper ingredients and bulking them up with fillers, in order to undercut genuine quality products through far cheaper prices. However, our unwavering commitment to the best quality ingredients and not compromising the integrity of our products to compete with cheaper pricing means that we have built an extremely loyal customer base who keep coming back to us because they trust us, and feel the biggest difference in their health with our products.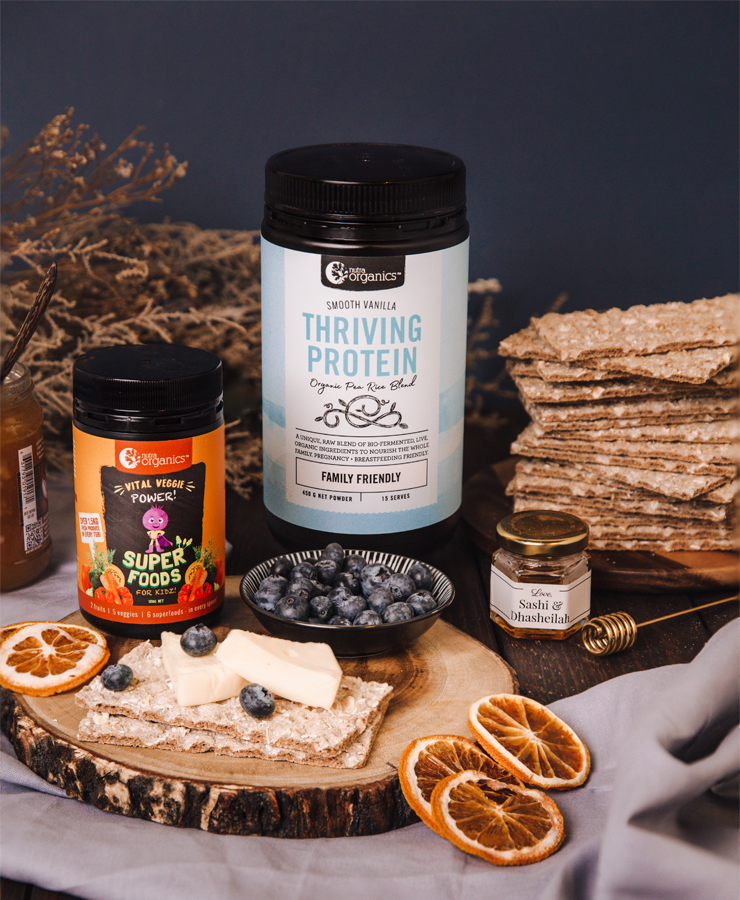 What are your bestsellers?
Our Collagen range is definitely our star range – the results our beautiful customers get within their skin, hair, nails, gut health and bone health has been astounding. The range has spread like wildfire throughout Australia through word of mouth and social media because just about everyone who takes it notices a huge difference, and they go on to sell it to everyone they know because they love it so much. For a while, we simply couldn't keep the range in stock because it would fly out the doors every few weeks.
Our Broth range is also extremely popular as the powdered broths are so convenient and tasty. Our Thriving Protein range is very popular as it is family friendly. And our Superfood Latte range is also very popular as we were the first to market with a full range of beautifully colourful caffeine free coffee alternatives with health benefits.
What are some misconceptions that people have when it comes to organic food?
Often consumers think that it's too expensive to buy organic produce, but that isn't always the case. We shop at our local farmers market, directly from the organic farmers, and it is much more affordable, sustainable and ethical than buying organic produce from big supermarkets. The markups in supermarkets can be outrageous and you really can save a lot of money and have better quality produce by shopping direct at farmers markets. In saying that, we do use organic ingredients wherever possible in our products, and they are always more expensive than conventional – but the benefits, quality and flavour, and omission of harmful pesticides in our products make them well worth the price.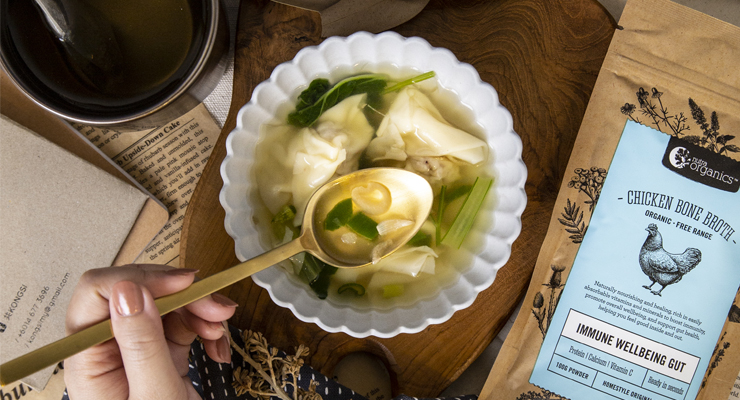 How does Australia fare/rank in the health food space when compared to other countries?
Australia is definitely one of the world leaders in the health food space. We really do have some of the best quality and most trusted produce in the world growing here, and many fantastic health food innovations. These days, it is so easy for us to access high quality, healthy foods, and there's certainly no shortage of health brands here.
How do your bone broths compare to someone brewing their own at home?
If customers have the time to make bone broth from scratch, by all means that is the most beneficial for your health. However, making broth takes 24 hours, and stinks out the house, and this just isn't possible for most people who live a busy lifestyle. Our Bone Broths are the next best option, and incredibly convenient – just add hot water! They are made by slow roasting bones for 18 hours (Chicken Bone Broth) and 48 hours (Beef Bone Broth). The broth is then strained for impurities and the fat is skimmed off of the top. It is gently refractance dried into a powder, taking care to preserve the nutritional profile. Refractance drying is the most superior and gentle drying method available, preserving more nutrients, aroma and flavour than all other drying methods.
Give us some tips on what consumers need to look out for when shopping for healthy food at the supermarket.
The first thing we do is look at the ingredients list. Avoid anything with words you can't pronounce, or anything with numbers in the ingredients list. Sugar isn't your enemy, but try and avoid refined sugars or artificial sweeteners and opt for wholefood sweeteners instead. We use maple syrup, rice malt syrup, date paste or thaumatin (a very sweet African cactus extract) to sweeten our products, and all of these are much healthier. As a general rule of thumb, organic, wholefood products are always the best option.
What are some health issues that are on the rise and which of your products can help?
Gluten, dairy, soy and nut intolerances are always a big issue, and our entire range is free from all 3 (except we do sell nuts in our Wholefood Pantry range), and most of our range is pregnancy, breastfeeding and child friendly – a huge pain point for mums that we are solving. The biggest thing our audience seems to be looking for at the moment is natural products to support their skin and gut health, which we do with Collagen Beauty, our broth range, and our protein range which is gut friendly.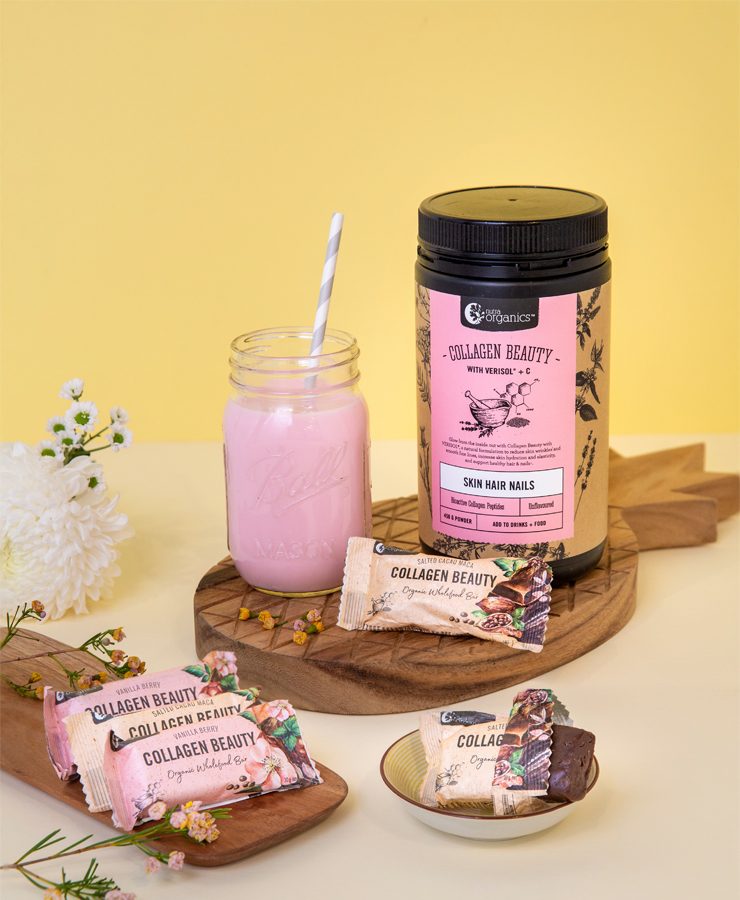 What is next for the brand?
We can't give away too many details, but we always have new products in the pipeline! Innovation is part of our DNA so we'll never stop bringing out new ways to support our customers health and wellbeing. We're really excited about the direction we are going in over the next year. A huge change currently in progress is moving all of our products into sustainable packaging, as well as proactively providing environmental and community support through our Project Give Back campaign. We have also bought some land in Northern NSW to build a new warehouse – and we have really exciting plans to showcase our products and different local artisan goods and produce.
Who do you follow on social media for inspiration?
We love a good foodie account! Some of our favourites include @panaceaspantry, @gatherandfeast, @gourmettraveller, @elsas_wholesomelife and @talinegabriel. For our daily laughs, you can't go past @celestebarber. She's possibly our favourite human ever.
Get started in less than 10 seconds here!
Sign in/sign up to your ShopandBox account.
You can add as many items as you want into your wishlist (even items not mentioned above).
Simply select the items you want bought, name your order, and hit the "Submit Order" button.
A personal Boxer will be assigned to you and will help you buy all your coveted items.
Your box of goodies gets shipped to your door in 1 – 3 days wherever you are in the world