Taiwan is known for way more than just it's delicious street food and bustling night markets. One of the more popular things you should get your hands on if you ever head to the island is the exceptional range of facial masks. Similar to its Korean counterparts, Taiwan's facial masks are efficient and come with affordable price points—a great reason why it would make the best gifts for friends family.
During our recent trip to Taiwan, we checked out a few drugstores including Watsons and Cosmed that offer a selection of facial masks that any skincare lover would go crazy over. A store we enjoyed scouring was Paris Strawberry in Ximending that sells all types of beauty products—including individual facial masks in case you prefer to sample one instead of buying an entire box per brand.
You might have heard of Annie's Way's star product, the Arbutin and Hyaluronic Acid Brighting Jelly Mask that is a cult favourite with beauty junkies across the globe. But its other range of masks such as the ultra-thin and light "invisible" sheets are also worth checking out. Active ingredients such as mint, ascorbic acid, chamomile, aloe vera, pearl and grapeseed are targeted specifically for your skin's needs, whether you want a mask that soothes, whitens or moisturises.
Try: Annie's Way Chamomile Tender Mask, Annie's Way, TWD350, + Add To Wishlist
We can't resist when facial masks come in the cutest designs—such as SexyLook's Disney Princess range featuring Sleeping Beauty, The Little Mermaid and Snow White. If you're feeling a tad bit badas*, go for their Disney Villains lineup that includes the antagonists in your childhood Disney cartoons, such as Maleficent, Ursula, and Cruella de Vil.
Try: SexyLook Disney Mask, SexyLook, TWD129, + Add To Wishlist
Naruko's facial masks are made popular by the founder of the brand, Niuer—touted the "beauty king" of Taiwan who brought Naruko to international fame with his "Night Gelly" collection. Naruko's face masks are fuss-free and soaked in a chockful of ingredients to nourish your skin under 30 minutes. A review stated that each mask differs according to the skin type it is supposed to be catered for, i.e. all are made of different materials including carbon, wood pulp, and clay.
Try: Naruko Red Barley Pore Reducing Mask, Naruko, TWD129, + Add To Wishlist
My Beauty Diary is also another recognised facial mask brand in Taiwan, and if its variety of unique ingredients don't intrigue you (such as natto, Mexican cactus, red wine and more), we aren't sure what will. The latest from the brand is a collection of regionally exclusive masks that take on well-known tourist spots in Taiwan including Taipei, Kenting, Huatung Mountain and Sun Moon Lake. How perfect would these be as gifts for your beauty-loving friends/family?
Try:
Skincare brand My Scheming first got under our radar for its Blackhead and Acne Removing Carbon Mask set—a three-step kit that includes blackhead removal activated carbon mask, deep pore demineralized water, and sebum clarifying pore treatment essence. But their facial masks are definitely on our list of must-have, especially the super adorable Gudetama inspired ones and gold bird's nest mask for a age-reversing effect.
Try:
Gudetama Facial Mask, My Scheming, TWD199, + Add To Wishlist
Gold Bird's Nest Nourishing Black Mask, My Scheming, TWD299, + Add To Wishlist
Blackhead Removal Activation Carbon Mask Set, My Scheming, TWD399, + Add To Wishlist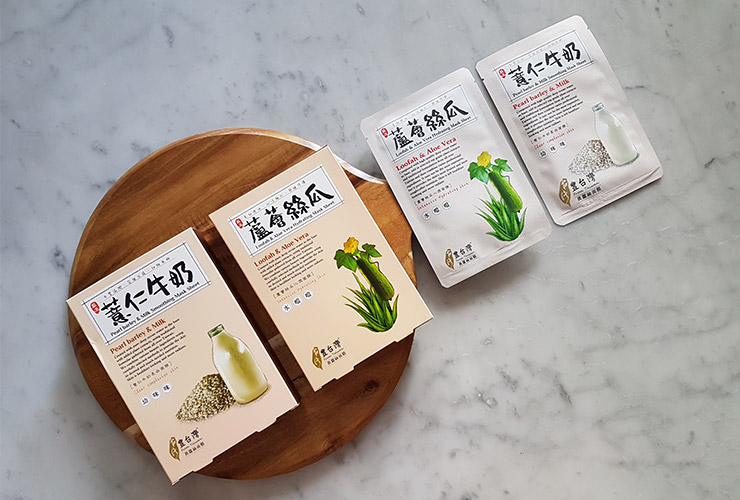 For those who are looking for masks to moisturise, nourish and hydrate, Lovemore is a good brand to kickstart your beauty regime. Its facial masks are made from silk to better lock in hydration and is infused with deep ocean water for a natural twist. Not to mention, this loofah and aloe vera mask will impart a glowing effect to your skin the next day.
Try: Loofah & Aloe Vera Hydrating Mask Sheet, Lovemore, TWD990, + Add To Wishlist
As you can tell, we went crazy over the extensive range of L'Herboflore masks we spotted at the drugstore. You can easily spot L'Herboflore's facial masks before others from the counter—thanks to its eye-catching designs that offer anything and everything for the visually-inclined, design-loving skincare enthusiast. Apart from face masks, it also has masks for the eyes, neck, hand & foot and bust area if you are interested; but we love the Camellia hydromask for its protein and vitamin-rich benefits.
Try: Camellia Nourishing Hydromask, L'Herboflore, TWD50, + Add To Wishlist
Founded in 1935, Dr. Morita is considered a veteran brand in Taiwan's beauty industry. But it was not only until 2004 when the brand decided to expand its product range by including facial masks. Their bestseller is the snail mucus filled Repair Essence Ultra Slim Facial Mask that has antioxidants and anti-bacterial properties while helping to promote skin cells for a younger glow. To find out how Dr. Morita's masks fare, check out reviews online on beauty blogs.
Try: Hyaluronic Essence Mask, Dr. Morita, TWD772, + Add To Wishlist
Dr. Douxi
You haven't really dabbled with Asian skincare if you have not tried the weirdest skincare ingredients on this planet. Case in point: Dr. Douxi's bestselling facial mask happens to be the Premium Skin Repairing Snail Facial Mask, a stellar product that closely adheres while promoting absorption of ingredients to your skin.
Try: Snail Facial Mask, Dr. Douxi, TWD399, + Add To Wishlist
Get Started in less than 10 seconds
Simply click on the "Add To Wishlist" links above!
This will automatically add the items into your ShopandBox wishlist after it prompts you to sign in/sign up.
You can add as many items as you want into your wishlist (even items not mentioned above).
Once you're ready, simply select the items you want bought, name your order, and hit the "Submit Order" button.
You will be assigned a personal Boxer who will help you buy all your coveted items.
Your box of goodies gets shipped to your door in 1 – 3 days wherever you are in the world!