The importance of gut health is trending at the moment what with the rise in probiotic supplements, kombucha, and the like. But it isn't just a passing trend: Gut health can impact your mental and physical well-being. While stress, a poor diet, and excessive alcohol among other factors can lead to a declining gut health, it's easy to jump back on the bandwagon with a few handy tips. Ramp up your fibre and green veggies intake; alongside that, indulge in some probiotic-rich foods that your gut will be glad to have.
We've rounded a list of food items that have a chockfull of probiotics that you can ShopandBox from USA, Canada, Korea and Germany below: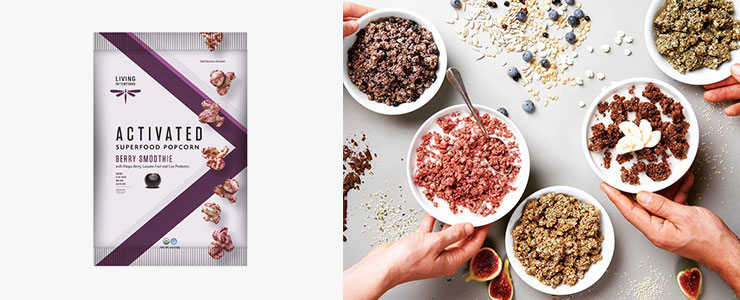 Berry Superfruit Popcorn, Living Intentions, USD5.49, + Add To Wishlist: Popcorns will never taste the same again, not when Living Intentions is adding major superfood benefits into its morsels of delight. The Berry Superfruit Popcorn has bananas lucuma fruit and antioxidant-rich maqui berries for a chockload of probiotics. The best part? It tastes like blackberry frappe — making it a worthy must-have as a breakfast topping.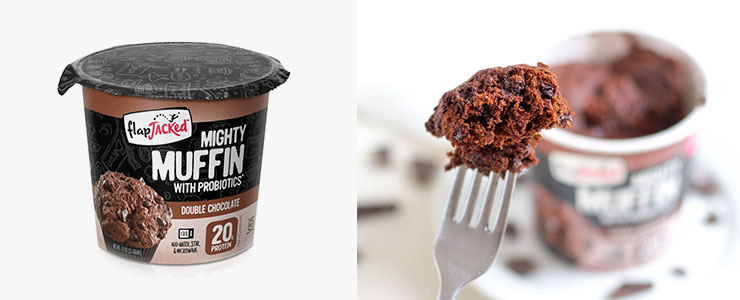 Double Chocolate Mighty Muffins, FlapJacked, USD19.99, + Add To Wishlist: Muffins can also be filled with probiotics too, such as FlapJacked's chocolatey muffins. Satiate your cravings with these treats, made of gluten-free oats, natural cocoa powder and bittersweet chocolate. All you gotta is do is add water, microwave for 35 seconds and you've got yourself a delicious dessert.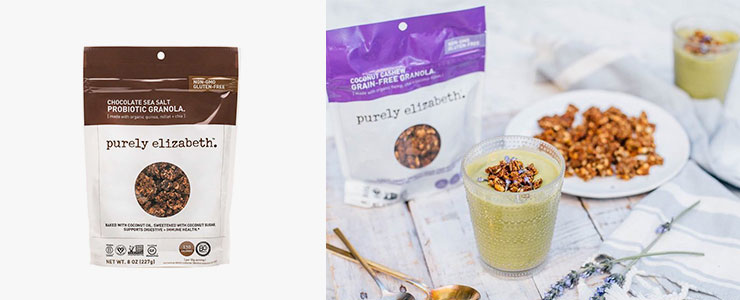 Chocolate Sea Salt Probiotic Granola, Purely Elizabeth, USD6.99, + Add To Wishlist: For added crunch in your breakfast parfait, toss in some probiotic granola from Purely Elizabeth. These have dark chocolate chunks, sea salt, and their own patented strain of probiotics for a healthy immune/digestive system. Sprinkle some on your yogurt or add them to your cereal in the mornings.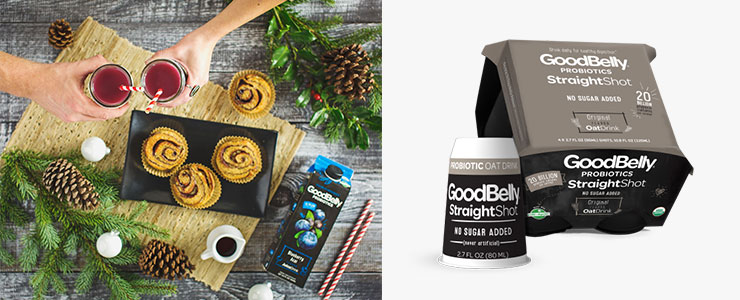 Straightshot, GoodBelly, USD2.76, + Add To Wishlist: If you don't have time to whip a hearty breakfast, GoodBelly's Straightshots will be a convenient way to add probiotics into your diet. This power-packed punch has more than 20 billion live and active cultures in every shot, perfect for an on-the-go healthy lifestyle.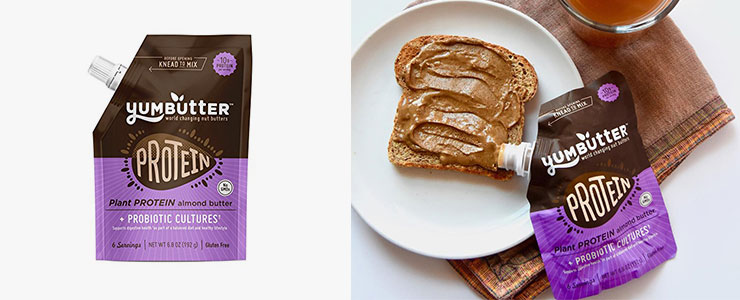 Plant Protein Almond Butter, YumButter, USD14.3, + Add To Wishlist: The next time you're about to reach out for that jar of almond butter for your toast, substitute it with YumButter's probiotic-packed almond butter instead. It has an organic plant-based protein with allergen-free probitoics, delivering 10g of protein in just two tablespoons of almond butter. Slather it over your toast, pancakes, or waffles in the morning to fuel your body for the rest of the day.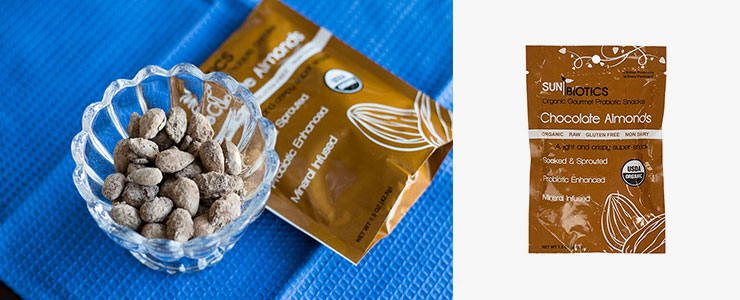 Chocolate Almonds with Probiotics, Sunbiotics, USD4, + Add To Wishlist: Apart from popcorn, another droolworthy (and healthy) snack you can consider is chocolate-covered almonds boosted with probiotics. These organic almonds are generously coated with raw cacao powder, coconut sugar, and a probiotic blend (eight billion per package) for a delicious crunch.
Original Ginger Snaps, Shasha, CAD4.97, + Add To Wishlist: Ginger snaps aren't just a seasonal thing. The best gingersnaps are when it's full-flavoured (no stinging on the spices), such as these popular ones from ShaSha. These cookies are all-natural with no hydrogenated fat/trans fat, and is naturally low in fat and sugar. Perfect for an afternoon snack.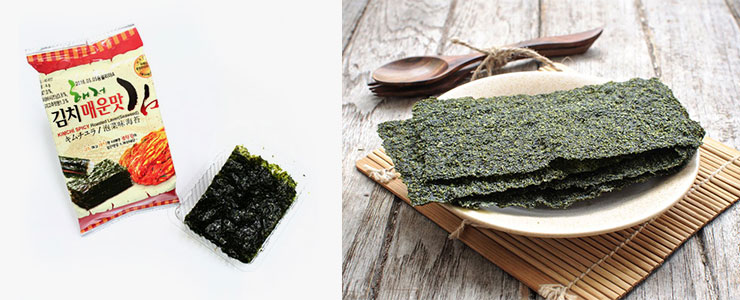 Kimchi Seaweed, Haejeo, KRW3,000, + Add To Wishlist: You can't go wrong with kimchi anything if you're looking for a natural form of probiotics. Kimchi has a strain of bacteria, specifically lactic acid bacteria, along with a high concentration of vitamins. A worthy snack is Haejeo's kimchi seaweed that's low in calories and high in iodine amongst other micronutrients.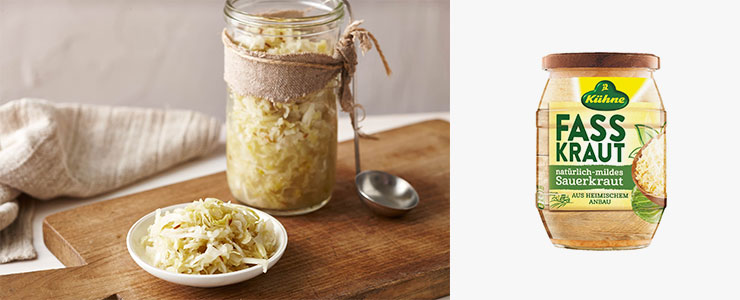 Fasskraut natural-mild sauerkraut, Kühne, EUR1.16, + Add To Wishlist: Another natural vegetable-based probiotic-rich food is sauerkraut, the Eastern Europeans' version of kimchi. Kühne's Fasskraut is a naturally mild and juicy sauerkraut that you can have for all occasions. Expect a full-bodied taste that will serve well as a side dish, or even inside a quiche.
Get started in less than 10 seconds here!
Simply click on the "Add To Wishlist" links above!
This will automatically add the items into your ShopandBox wishlist after it prompts you to sign in/sign up.
You can add as many items as you want into your wishlist (even items not mentioned above).
Simply select the items you want bought, name your order, and hit the "Submit Order" button.
A personal Boxer will be assigned to you and will help you buy all your coveted items.
Your box of goodies gets shipped to your door in 1 – 3 days wherever you are in the world!
Featured image: YumButter